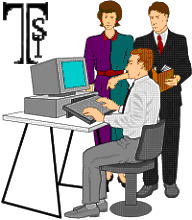 Total Solutions, Incorporated
488 Saddle Drive, Suite 100
Nashville, TN 37221-1903
Telephone: (615) 662-7684
Fax: (615) 646-7832

"Simple Solutions to Today's Complex Problems"
What Is Total Solutions, Incorporated?
TSI is a programming and application development company that goes the extra mile for our customers. In this time of rapid change, Total Solutions, Inc. is dedicated to providing you with state-of-the-art technology to insure you to succeed in today's business world.
Total Solutions, Inc. has developed its own set of programming tools for DOS and for WindowsTM. These tools allow us to write programs with maximum efficiency in mind. Your programs are then by nature more productive, easier to maintain, and easier to update.
Our President, Alan S. Ashendorf draws on his 26 years experience in the research and development of systems. As a beta tester for leading software companies, Alan tests over 60 products annually. He is Founder and President of the Nashville Area Access Group, the Nashville Clipper Developer's Association, and the Nashville Area PC Users' Group. In addition, he hosts the Mid-South's longest running computer talk radio show, "Let's Talk Computers". Alan is a guest lecturer and author of several articles for PC publications.
Total Solutions, Inc. provides:
We specialize in all types of data recovery.
Project management
Conversion planning & assistance
Applications programming
Hardware evaluation
PC/LAN implementation
Migration assistance
We can analyze, plan, and implement a total solution for you.
What Does Total Solutions Offer?
Individualized customer support tailored to fit your company's needs. You only make one phone call to get a total solution for your computer necessities from programming to maintenance.
100% customer satisfaction in providing applied applications that really works for you.
System planning with expansion in mind. We have worked with NT, Access, Exchange, Visual Basic, and Clipper to name a few. TSI will develop a system for you that not only provides your current needs, but also takes into account your future growth.
Latest in technology so that you know your investment dollars are going toward the best and most current tools available.
Beta Test Site, for over seven years for such software companies as: Microsoft, Computer Associates, Borland, Symantec, and others. This insures our clients retain their competitive edge.
Aggressive R&D to remain ahead in the industry and develop tools to make your applications faster and easier to use.
What can OUR EXPERTS do for you?
We have developed applications for:
Manufacturing
Order entry
Health & environment
Inventory
General accounting
Data collection
Shipping & receiving
Production tracking
Inventory control
Master scheduling
Healthcare management
...And more
For simple solutions to the complex problems of today and tomorrow, contact:
Total Solutions, Incorporated
488 Saddle Drive, Suite 100
Nashville, TN 37221-1903
Telephone: (615) 662-7684
Fax: (615) 646-7832